hurm...I think I'm cake-hunger right now and I want to bake a cake!!haha~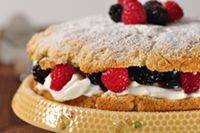 seems doesn't really look tempting
now, how does it look?
Ingredients
For Berries:
1/2 cup of Water

1/2 cup of Sugar

1 Vanilla Bean

2 pints of Raspberries

2 pints of Blackberries

1 pint of Strawberries

1 tablespoon of Lemon Zest

1 tablespoon of Fresh Thyme

For Biscuit:
2 cups of All Purpose Flour

1 tablespoon of Baking Powder

1 tablespoon of Salt

1 tablespoon of Sugar

1 1/2 cups of Heavy Cream

5 tablespoons of Melted Butter

For Basil Mint Syrup:
1 bunch Basil

1 bunch Mint

1/2 cup of Light Corn Syrup

For Whipped Cream:
1 pint of Heavy Cream

1/2 cup of Sugar

Directions
For Berries: Bring water, sugar and vanilla to a rapid boil. Add and mix berries, lemon zest and thyme. Cook until soft but not pureed. Drain juice and reduce to a syrup.
For the Biscuits: Preheat oven to 425 degrees. Mix cream into sifted flour, baking powder, salt and sugar. Don't overmix! Place in plastic wrap and form into 1 inch thick rectangle. Refrigerate. Cut into biscuits. Brush generously with butter. Place on a cookie sheet and bake for 12 minutes.
For the Basil Mint Syrup: Blanch and squeeze dry the basil and mint in boiling water. Shock blend with corn syrup.
For the Whipped Cream: Whip heavy cream and add sugar.
To assemble:
Cut warm biscuit in 1/2. Fill with berries. Moisten with berry syrup and top with cream. Garnish with mint syrup.
my 3rd attempt..the decor, i look forward top chef's..heheh~
p/s : rugi kalau tak cuba resipi ni...ngee~